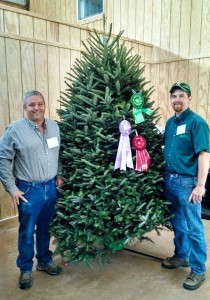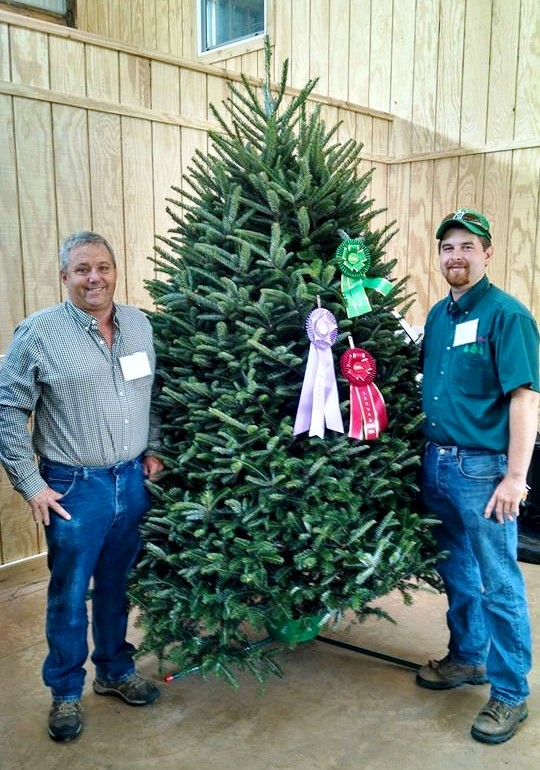 FOR IMMEDIATE RELEASE Wisconsin and Pennsylvania Farms Named National Co-Grand Champions Will Provide Official White House Christmas Trees in 2015 and 2016
July 28, 2015 (Chesterfield, MO) – A Balsam fir Christmas Tree grown by Dave Vander Velden, of Whispering Pines Tree Farm in Oconto, WI, and a Douglas-fir Christmas tree grown by Jay and Glenn Bustard, of Bustard's Christmas Trees in Lansdale, PA have been named Co-Grand Champions of the National Christmas Tree Association's (NCTA) 2015 National Christmas Tree Contest. As growers of Grand Champion trees, each farm has earned the right to present the official White House Christmas Tree the next two seasons. Since 1966, NCTA members have presented the official Christmas Tree for display in the White House Blue Room.
The 2015 National Tree Contest was held July 24 at the Richardson Adventure Farm in Spring Grove, IL in conjunction with a regional Christmas Tree grower's conference hosted jointly by the MidAmerica Christmas Tree Association, the Wisconsin Christmas Tree Producers Association, the Indiana Christmas Tree Growers Association and the Illinois Christmas Tree Association. NCTA hosts the National Tree contest biennially and will not hold a national contest in 2016.
The National Contest also anointed Co-Reserve Champions of the contest. Traditionally, the Reserve Champion farmers have provided a Christmas Tree for the residence of the Vice President. The Co-Reserve Champions are Charles Sturgill of Sturgill Tree Farms in West Jefferson, NC and Rex Korson of Korson's Tree Farms in Sidney, MI. Sturgill placed second in the True fir category with a Fraser fir and Korson placed second in the spruce category with a Blue Spruce.
Trees entered in the NCTA contest must fit into one of five species categories: True Fir, Douglas-fir, Spruce, Pine or Other. A panel of judges, made up of long-time growers and past contest winners, selected the first-, second- and third-place winners in each category, then attendees of the regional conference and a panel of consumer judges voted for their favorite among the species first and second place trees. Those vote totals determined the Grand Champion and Reserve Champion trees.
"A fresh, farm-grown Christmas Tree is a great tradition in our country, and we Christmas Tree farmers love this particular 49 year tradition of the national contest," said Blake Rafeld, NCTA president and a Christmas Tree grower from Ashland, OH. "You have to be really good at your craft just to be eligible to enter the national contest let alone win it."
To enter NCTA's national contest, growers must first win their state/regional competitions in the previous 24 months. "I was ecstatic when I heard my name called," said Vander Velden. "The (national) tree contest is the super bowl for Christmas Trees… What an honor."
Jay Bustard echoed that sentiment and described how much goes into getting a tree ready to compete in the National Tree Contest. "We are fortunate to be voted one of the best trees in the contest by our peers," said Bustard. "Our employees were a big part of growing this tree. We thank them."
White House staff members typically travel to the Grand Champion's farm in the fall to select the tree that will serve as the centerpiece of the Blue Room holiday decorations. The Blue Room tree will need be 18 ½ feet tall, much bigger than the 6- to 8-feet trees entered in the contest.
First place winners in each species category: Douglas-Fir: Jay and Glenn Bustard, Bustard's Christmas Trees, Lansdale, PA – Co-Grand Champion True Fir: Dave Vander Velden, Whispering Pines Tree Farm, Oconto, WI – Co-Grand Champion Spruce: Larry Smith, Mountain Top Fraser Fir, Newland, NC Pine: Tom Dull, Dull's Tree Farm, Thorntown, IN
Second place winners in each species category: Douglas-Fir: Eric Sundback, Sundback Trees, Shepherdstown, MD True Fir: Charles Sturgill, Sturgill Tree Farms, West Jefferson, NC – Co-Reserve Champion Spruce: Rex Korson, Korson's Tree Farms, Sidney, MI – Co-Reserve Champion Pine: David Daniken, Daniken Tree Farm, Greenville, IL
Third place winners in each species category: Douglas-Fir: Dan & Ken Wahmhoff, Wahmhoff Farms Nursery, Gobles, MI True Fir: Paul & Sharon Shealer, Evergreen Acres Tree Farm, Auburn, PA Spruce: Lynn Smith, Merlyn Farms, Banner Elk, NC Pine: John Hensler, Hensler Nursery Inc., Hamlet, IN
Winners of the National Wreath contest, also held on July 24 were: Undecorated Category: John Chefas, Hart-T-Tree Farm, Grassy Creek, NC Decorated Category: John Chefas, Hart-T-Tree Farm, Grassy Creek, NC ABOUT NCTA
NCTA 2015 Contest Winners Press Release (1)
About the National Christmas Tree Association (NCTA) The National Christmas Tree Association is the national trade association representing the farm-grown Christmas Tree industry. NCTA represents around 600 active member farms, 29 state and regional associations, and 4,000 affiliated businesses that grow and sell Christmas Trees or provide related supplies and services.