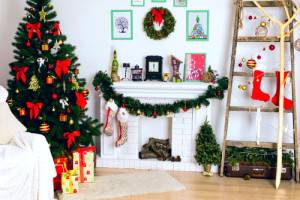 Sturgill's Tree Farms sells fresh Garland Mix of Christmas garlands. We use fresh cut Fraser fir cuttings as well as White Pine cuttings. If you wish to have a mix, we offer Christmas garlands in mixed form or you can just buy a box of fresh cut bough to create your own strands and Christmas garlands. We sell our mixed garland to all buyers and you'll likely find some of our Fraser fir Christmas trees at retail lots near you because we sell wholesale Christmas trees to buyers across the country, who then sell the trees on their retail lot locations throughout suburbia and cities.
We offer our Christmas garlands for wholesale orders. Order early to ensure that you have get the options that you want. Many buyers choose to buy our Christmas garlands and wreaths to give away at Christmas time to company employees and beloved clients. That's because, everyone loves decorating with all natural, fresh cuttings at Christmas time. It ensures that you will get to enjoy the fresh scent of evergreen throughout the Christmas season. Instead of giving the usual wreath, candle or book, give someone the gift of fresh Christmas garlands and natural décor for their home or office.
Fraser fir garland is especially aromatic, while the White Pine garland is preferred by those who have allergies and sensitive olfactory receptors. Christmas garlands and wreaths have been used to decorate the outdoors and the indoors for centuries at Christmastime. We especially like the usage indoors that is pictured here to the right. Garland was used on the fireplace mantel AND was put on top of the luggage decorative underneath the rustic painters ladder. Adorable!
Mixed Christmas garlands pair well with fresh Christmas wreaths that are formed from a mix of real tree cuttings. If you buy a mixed wreath, you'll probably want to continue that theme throughout the entire natural décor. However, when decorating with Christmas garlands there are no rules. We've seen White Pine garland paired with Fraser fir wreaths that look exceptional together. It's really up to the decorator's eye and wishes.